At the 2023 Los Angeles auto show, Subaru announced that the Forester compact crossover SUV will get a hybrid powertrain option for the first time.
Subaru briefly mentioned the Forester Hybrid during the reveal of the redesigned sixth-generation Forester, which goes on sale next year as a 2025 model with gasoline-only power. The Forester Hybrid is scheduled to arrive about a year after the non-hybrid version, meaning it will likely be a 2026 model.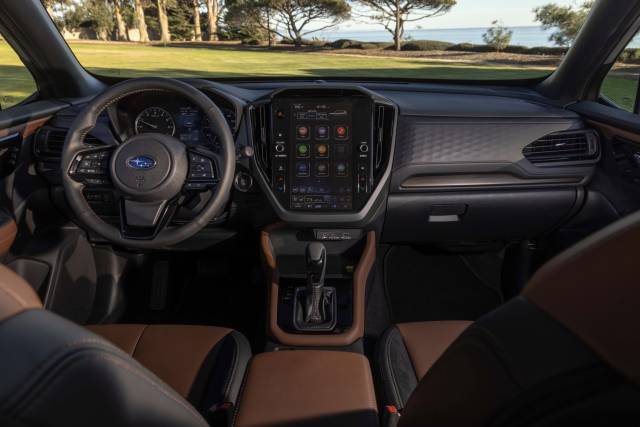 2025 Subaru Forester
No further details on the Forester Hybrid were provided, but it's worth remembering that the Subaru Crosstrek Hybrid was actually a plug-in hybrid—so that could be the case here as well. Borrowing hybrid components from Toyota, the Crosstrek Hybrid was launched for the 2014 model year and lasted for two generations before being discontinued after model year 2023.
More likely, the Forester Hybrid will sport a powertrain that Subaru can produce (and offer) in higher volume than the Crosstrek Hybrid.
The sixth-generation Forester on which the hybrid model will be based gets more rugged styling, an updated infotainment system with an optional 11.6-inch touchscreen, and the next generation of Subaru's EyeSight driver-assist system. It's still based on the Subaru Global Platform used by the previous-generation Forester and most of the automaker's other current models, but Subaru claims a 10% increase in torsional rigidity.
2025 Subaru Forester
The idea of a Forester Hybrid with a sportier STI tune was teased when the last generation arrived with a concept shown at the 2018 Tokyo Auto Salon. That concept never reached production, but the STI (Subaru Tecnica International) skunkworks will likely be tasked with building plug-in performance cars as additional EVs join the Subaru lineup.
Subaru this summer announced accelerated EV plans, with several models planned for U.S. production later in the decade. For now, Subaru's only EV is the Solterra, which underwhelms for range but is nicely packaged and lives up to the ruggedness of the brand.
Related Articles